17
Get more blog traffic by doing something you enjoy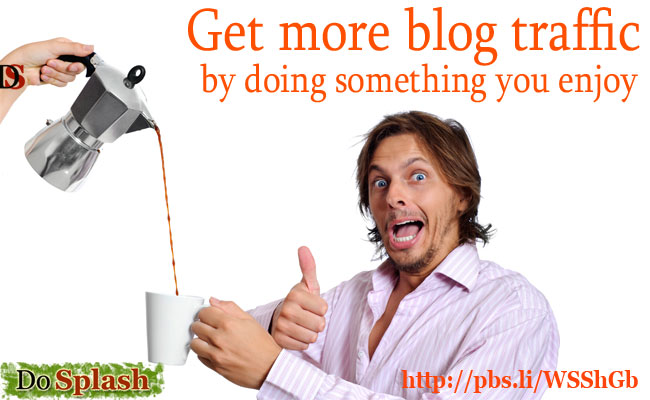 So you want MORE blog traffic, right? Who doesn't want more traffic and more money? Every one wants M. O. A. R!
There are thousands of ways to get more traffic. Seriously. Thousands of ways. But not every way is going to get you the expected results for the amount of trouble you put in.
You know that by now already!
You would have already tried hundreds of ways to get more traffic to your website, right? But if you are still reading this post, it means you are not getting enough traffic. You still want more!
Right?
While I can give you at least 25 tips to help you get more website traffic, I am going to give you only ONE tip.
So, what is that tip?
Connect with others.
That's it! Simple, right? It is a quite simple advice any blogger can follow to get more traffic.
This tip works in ANY niche. And you don't have to learn any technical stuff or keep up with algorithmic changes in order to implement this tip and make it work for you.
And implementing this tip is a highly enjoyable thing. With my online activities there are a lot of tasks that I do on a daily basis. Some are repetitive tasks. Some are intensive tasks. To be quite honest, some are boring tasks.
But connecting with others is an enjoyable task. Who doesn't like to make a few extra new friends? Who doesn't like to start a chatter and who doesn't like support each other along the way to growth and prosperity?
By connecting with others you can enjoy doing all these PLUS you can get a lot of professional benefits that help growing your online business.
One of such benefits is website traffic!
Over the time, I have connected with some very nice blogging pals who have played crucial roles in my blogging history. Some have acted as my peers, and have given me critical advice and have corrected me on instances when I was wrong. Some have encouraged me to try new things and have provided me with moral support.
Some have provided me with blogging advice out of their experience. And some just stay as cool nice friends!
And friends are forever. When someone becomes your (genuine) friend you can count on them for life, which is cool – unlike a search engine algorithm, or a plugin or a software, which changes quite often, gets updated, breaks down, changes things by turning tables upside down and so on.
Before I go further discussing something on this topic, I would like to first of all remember some of my blogging friends:
1.
Francisco Perez (AKA Ditesco) of iBlogZone
– One of my first blogging friends who has acted as a peer to me. He has given me critical advice on my products, and have given moral support on many things blogging. He regularly does roundup of best posts. Read 
his latest roundup here
.
2.
Ileane Smith of Basic Blog Tips
– The lovely lady who introduced me to a very big pie of the blogosphere with a rocking intro post (I am not linking to that post here coz the post is a LOT outdated ;)). The thing I like about her is that she shares a lot of new tools in her blog – usually the stuff you don't hear about anywhere else. 
This post about Circloscope
 is an example!
3.
Ana Hoffman of Traffic Generation Cafe
– The well known traffic queen who has given me lots of critical suggestions when I have reached out to her. She is a tough girl, but I also found her to be a down to earth person. She has provided me moral support at various times (especially when I was emotionally down and needed such support) which I can never forget. I am a lover of her tough, no sugar-coat, and honest writing style. Here is 
a honest post from her
!
4.
Hesham Zebida of Famous Bloggers
– A very talented, yet down to earth person who has mentored me on quite some occasions. He has helped me with my first product, and has also provided opps to publish my guest posts at his blog and gain authority when I was known to no one in the blogosphere. His blog still continues to feature many bloggers, which is good. He is a developer and here's his 
post about his new plugin
.
These are my old time pals who have helped me grow, who gave me the initial push and who gave me the moral support I needed to climb up.
Now, these are not the only friends I know, of course! But these are the ones that created an impact 🙂
Again these are not the only new friends I have made. If I have to list all of my friends here, this post will run pages and pages. But I have only mentioned a handful of them who have made an impact in my blogging life and who continue to be very nice friends along the way – some are inspirational, some are comforting, some help me out at times and so on.
And friends are forever 🙂
So how does making connections help you with increasing your blog traffic?
Now, let me make one thing clear before I start – you should not "make" friends for the sake of increasing your blog traffic. That is NOT the point of this post!
Making genuine connections should happen naturally and you should do it without expecting anything in return – that's the base of friendship, right?
But when you do so, you can reap the benefits – a nice by-product is an increase in your blog traffic.
How?
Peers, and friends don't hesitate in mentioning you generously in their blog posts, if they have to.
They don't hesitate linking out to you.
They don't hesitate in sharing your stuff with their followers in social media.
They are ready to help you out when you are launching something new (like offering feedback, etc.).
They will help you with critical advice when you are doing something new.
They will help you reviewing your product, to get the word out or even promote it for you.
They could help you with joint ventures.
They could help you when you are broke, about to quit and/or when you need to hear some nice positive words.
They could be your inspiration.
They could point you out when you are doing something wrong.
And all these WILL improve your reach in the blogosphere. These will improve the quality of your work. You could get some critical opps to get featured or to be mentioned somewhere you never expected of.
And THAT is the power of having genuine connections. Things will happen naturally!
How to "find" people to connect to?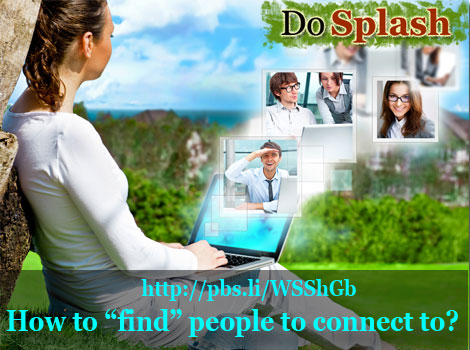 Again, let me make another thing clear. Making connection is not about stalking people. You should not reach out and stalk others in a hope to grow your business or to make them tweet your post! That is a rude thing to do.
You should genuinely reach out to people and see if the connection happens naturally. Where to look out for people? If you don't know all the people who exist in the blogosphere how can you possibly connect with them?
So, let's get started!
#1 On their blog/website
Yup, right! If you want to establish a relationship with a blogger or an entrepreneur his/her blog or website is the most appropriate place. Showing up at their own blog is the best way to reach out to them and connect to them, right?
Sharing their post in social media (tag them so they know), and leaving a comment on the actual post are great ways to connect with a blogger.
Once you consistently do the above two things for quite some time, you can then reach out to the blogger for a guest post request. If he/she generally allows guest posts on your site, then there is no reason he/she will reject your request – assuming he/she already knows you and assuming your post is of great quality.
A lot of the connections I made are result of my commenting on their blog posts and eventually writing guest posts for their blog. It is a win-win.
So how do you find the blogs/websites of the persons you want to connect to?
Read on …
#2 Blogging Communities
Recently this is my #1 place to find new connections in the blogosphere. I regularly visit a handful of blogging communities that help me unearth new blogs/websites.
Here's my personal list:
DoSplash (owned by yours truly)
On some communities I participate actively – by submitting others' posts, voting, and commenting. On some communities, I only vote, and observe the others.
If I find someone who resonates with me, I go ahead and connect with them. Or if I find someone's work to be really appealing and to my liking, I share their post, leave a comment and initiate a connection.
And then I don't continue to stalk them or pull them to connect with me.
Whenever I leave a comment, I don't do so to stalk the person or for the sake of leaving a comment. If I read an amazing post, and even if I want to connect with the person, yet if I don't feel like saying anything about that post, I simply leave without posting a comment.
The key here is not to "build" connections mechanically or forcefully. You have to let that happen naturally (I guess I've repeated this enough times already :)).
#3 Social media
This is a great place to find people to connect to. Most entrepreneurs hang out on social media – some are active on Google+, some on Twitter, some on Pinterest and some on Facebook.
You don't have to go and look out for them in their platform of interest – that would be forcing it (and also would look artificial). Stay on the platform where you are active, and where you have already established your presence. For instance, if you are a Google+ person, find out people with whom you can connect in Google+.
If you like their social updates, Like/+1/Retweet it. Jump in to their discussions if you found them interesting and if you feel like participating in the discussion, do so.
Over the time, doing this consistently you can gain a lot of new connections.
#4 Be nice to people
This is a simple and easy way to obtain new connections. Your inbox can be a good place to develop this kind of connections.
When people approach you for help, if you can do it, make sure you certainly do it. You won't know how much of a help it is to do that little thing you have been asked to do.
Most of the times, when I do those little things to people who ask me the same, they become lifetime fans of me 🙂 To me that's a little thing that I do. But to them, that could be a crucial thing, a big thing and/or a timely thing!
By being nice, you can not only connect to peers and the big fellas, but you can also connect to your readers and newbies who have lesser professional experience than you (unlike the other three methods mentioned above).
This way you can expand your reach both ways, if you know what I mean 😉
Conclusion
Writing this post turned out to be a pleasant experience to me. Coz I am sharing an enjoyable thing here. Making connections.
I can boldly say that connecting with the others in the blogosphere is one of the pleasant blogging tasks that you can carry out every day – on a day today basis without any hesitation.
Making connections should be part of your blogging strategy – your blogging plan. Just like content marketing, treat this like a crucial strategy.
But make sure you don't do it for the sake of blogging success, or for your own benefit or to increase blog traffic. The true success of this strategy depends on how genuinely you approach it.
If you start making genuine connections and build your pool of friends, over the time you can create your own blogging empire that will be filled with love, moral support, peer advice, fans, and much more.
Word of mouth marketing is very effective and by making genuine connections you don't have to devise a separate plan for your word-of-mouth marketing to work!
Enjoy making connections and enjoy getting more website traffic.